Tag: off off broadway
by Jeffrey Stanley on Jan.01, 2011, under Film/TV, Politics, The Press, Theatre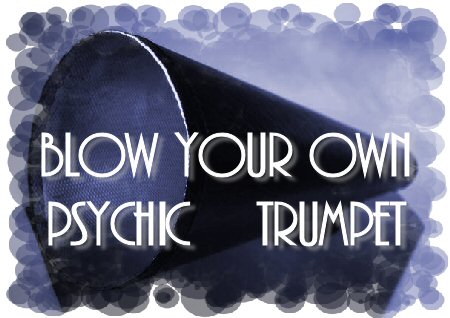 Alright. I will blow my own psychic trumpet – if I can reach it.  Here goes…
ARTS AND ENTERTAINMENT
Paris Hilton will become increasingly orange, and will be found dead from a cocaine-heroin cocktail overdose in the Malibu home of a close friend.
Martin Scorsese will make a new movie stereotyping Italians.
Robert DeNiro will phone in another comedy performance to keep the bills paid.
Woody Allen will make one more movie whining about the fact that his life is meaningless and his ego too fragile to take it just in case we haven't been paying attention.  To prove his point, he'll pull the negationist stunt of divorcing Soon-Yi and marrying one of his other children.
Charlie Sheen's antics will continue to be hilarious. Oh, his TV show will also stay pretty funny.
Broadway will remain racially segregated, with investors maintaining that Separate But Equal works really well in theatre, so why tinker with it? Tourists will agree with them wholeheartedly.
Off Broadway will continue rolling out redundant domestic dramas about the trials and tribulations of white families, some of whom are struggling exploitatively with their homosexuality, some exploitatively with their children's homosexuality, others with prescription drug addiction, still others with a general suburban ennui.  Hasn't the gay community been stereotyped enough?
Off Off Broadway will remain the last bastion of truly cutting edge professional, noncommercially-driven theatre, which unfortunately most tourists either won't learn about or will be too afraid to take their kids downtown or to Brooklyn  to see, or will continue in their mistaken belief that Off Off is synonymous with amateur.  To combat this, the tired phrase "Off Off Broadway theatre" will finally be dropped by the media and replaced with "independent theatre," making it appropriately analagous to independent film.
BOOKS
Memoirs by overprivileged yet sheltered white ladies who traveled alone abroad for the first time, and had unlifechanging experiences which they contend were sublime, will finally stop being published.
SPORTS
NFL and SPCA legend Michael Vick, the OJ Simpson of animal abuse, will get caught in another imbroglio involving violent cruelty to a living thing weaker than himself, and it will involve illegal gambling. To help boost his reputation, Vick will open a Vick's Pet Care pet-sitting service in Philadelphia.
JOURNALISM
"Aks" will become standard English for the proper way to spell "ask."
The nonsensical "for all intensive purposes" will become an increasingly acceptable idiom, replacing the more traditional and more logical "for all intents and purposes," which just sounds too old-fashioned even though it actually makes sense.
"Repel" and "repeal" will continue to gain acceptance as synonyms.
The nonexistent word "insiduous" will replace "insidious."
No one will help us out of this mess, and schools will only reinforce these absurd grammatical changes.
AMERICA'S OBESITY CRISIS
The discredited 1970s' 4-4-3-2 nutrition plan will be resurrected by the US Department of Agriculture as a normal, healthy diet given that most Americans adhere to it anyway. Did you know that pizza with everything is a healthy meal, containing items from the milk group, meat group, fruits & vegetables group, and breads & cereals group?  So is a Whopper.
WORLD
There will be continued violence in the Middle East. There will be continued violence in Africa. The sky will continue to be blue, the trees green.
European anarchist groups will continue to work together with increasingly sophisticated coordination, destroying the economic system, plunging us into their much hoped for post-apocalyptic, feudalistic society.  They will declare the date to be Year Zero. Farms will be seized and "collectivized," after which mass starvation and gang violence will rule the day. Frazzled anarchist leaders will then call upon the police and military to restore order, and then they will request loans from multinational banks to rebuild all the roads, trains and hospitals they destroyed in order to liberate all of us.
POLITICS
Millions of working Americans will begin to feel and appreciate the benefits of Obama's healthcare plan but will continue to complain that socialist Obama has screwed up the country.  Obama, unfazed, will prepare for a 2012 landslide reelection.  I also predict that I will be one of those voting for him again.
A major world leader will announce not only a cutesy belief in the possibility of extraterrestrials, but will insist with all seriousness during a press conference that he has seen ETs himself. The Vatican will immediately back him up. This will all be part of preparing us for 2012 when things are really gonna get all alieny up in here.
SCIENCE
Bigfoot sightings will become increasingly fashionable. A theoretical link between Bigfoots and the newly announced ETs (see above) will gain ground among top scientists.
Happy New Year, everybody. God bless us, every one.
[image via psychic-junkie.com]
Comments Off
:2011 psychic predictions, 2012, 4-4-3-2, 4432, aliens, bigfoot, breads and cereals group, broadway, charlie sheen, eat pray love, european anarchist, fruits and vegetables group, gay, gaysploitation, homosexual, independent theatre, jefe von stanley, jefevonstanley, jeffrey stanley, julie and julia, martin scorsese, meat group, memoir, michael vick, milk group, nfl, obama healthcare, off broadway, off off broadway, paris hilton, philadelphia, robert de niro, spca, the coming insurrection, the invisible committee, usda, vatican, vick's pet care, woody allen
more...
by Jeffrey Stanley on Jun.10, 2010, under Film/TV, NYC, Theatre
Take that, commerce.  I love a theatre company that practices what it preaches, and the wonderful folks at The Collective have done it again.  I first became aware of this creative, inventive, smart, political, funny, driven, earnest bundle of talent a few years ago when I met member Lisa Kicielinski at Naked Angels' tuesdays@nine reading series; since that time they've done two in-house readings of my works-in-progress UFOs Over Brooklyn and The Great Age as a personal favor to help me out in my creative process, and allowed my award-winning short film Lady in a Box to ride their coattails into the Global Awareness Project's Strand Film Festival shown on the IMAX screen in Myrtle Beach, SC.
Their stage productions  usually have brief runs at this point, like bright bottle rockets going off in New York's ocean of indie theatre while they continue to get their sea legs. If you're having trouble navigating that vast sea, the Collective are a terrific port in the storm.
They often write and produce their own works in film and theatre, and sometimes produce modern classics by others like this Frank MGuiness play up there on the left.  There will only be 12 performances of this play, scattered throughout the summer, but here's the truly unorthodox part that brings a tear to my jaundiced eye:  half of the tickets for each show will be given away. 
 "In a struggling economy, art is both undervalued and underfunded," said Collective member Kevin Kane.  "We want to make quality professional theater available to all. We want to have no empty seats.  To the struggling student, to the theater lover who has been priced out and to the first timer who can't afford to fall in love, we say that we would rather perform for you for free than to have one empty seat in the house."
Playwright McGuiness has allowed the group a special arrangement to produce his play. You can take part in the campaign by
BUYING an $18.00 ticket and seeing the show. Simple enough.  Go here to purchase:  Smartixx
and/or
SENDING A DESERVING STRANGER to see the show by DONATING a tax deductible $18.00. Follow the instructions for how to donate here: NO EMPTY SEATS
or
SEEING IT FOR FREE WITHOUT BUYING ANYTHING if you cannot afford a ticket.  The work in this play has merit, this play's message is relevant, resonant and important.  Don't miss it. Order a free ticket and pay nothing for it.  Smartixx
This is high level theater at low level prices.  The play opens one week from today, next Thursday, June 17th.
Help them kick it off the right way by buying one ticket for yourself and one ticket for a stranger.
Comments Off
:brian leider, frank mcguinness, global awareness project, independent theatre, jefe von stanley, jefevonstanley, kevin kane, lisa kicielinski, mike houston, naked angels, off off broadway, robert z. grant, someone who'll watch over me, the collective, tuesdays@nine
more...